"This is the history of a man who was born in Kochi prefecture, Saga; who graduated Middle school whilst becoming a fisherman and as time went by, eventually became an ice-cream maker".
History of Kochi Ice since 1988-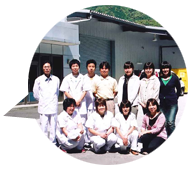 1959
The Company President, Mr. Fumiya Hamacho was born in Kochi Prefecture, Hata County, Saga (He is currently in Kuroshio, Saga).
1975
Boarded a local fishing boat, and became an independent fisherman of Tosa.
1980
At the same time he got married, he quite being a fisherman, moved to Kochi Prefecture and became an office worker.
1984
Within his company he became head of the food section, and took charge of the selling of ice-crin at a product exhibition (He went to department stores and sold ice-cream).
1988
He brought an end to his 3 years as the head of the food section and became independent. Adopting the store name "Tosa-kashimaya", he continued to take part in product exhibitions.
1995
Established the company Headquarters in Inabu, Nankoku City. At this time, they named to company "Koichi Ice" (which can also mean 'to love Kochi').
2002
November: Became Koichi Ice Limited corporation.
2004
Moved the factory to the location it is in now, Ino Town, Shimohachigawa. Were chosen by the Kochi Prefecture important support Project.
2008
Were chosen by the country's Agricultural, Commerce and Industrial Corporation.
Took part in a market examination with Taiwan, Hong Kong, Singapore and Shanghai, and also started its business acitivities.