We are a company that strives for excellence in taste
To ensure that our customers are able to enjoy our product with reassurance, we make every effort in choosing the best ingredients.
Before the harvest we visit our producers directly, and only after inspecting the field conditions, cultivation methods and whether or not agricultural chemicals are used, do we make an agreement.
Amidst the climate of Tosa, we are continuously finding good ingredients and would like to provide you with the best products.
First place in Nikkei's "Best fruit Sherbet" nation-wide ranking!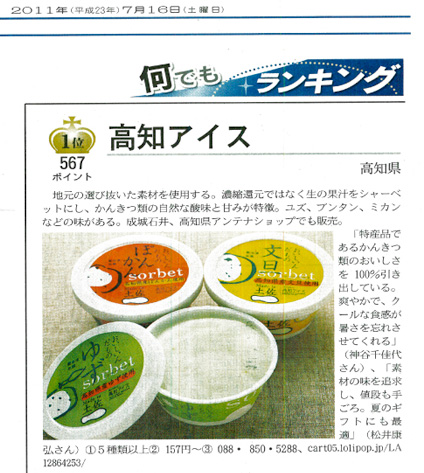 In the 16th July 2011 edition of the Nikkei newspaper, Koichi Ice was ranked No.1 as the best fruit Sherbet nation-wide.
It was awarded the highest points by specialist critics, receiving 567 points and ranking way above 2nd place which received 423 points.
As displayed on our 'Shop' page, our Citrus Sherbet is now on sale, so please feel free to purchase it for use at home or even as a gift. Please feel free to come and try our products, made heartily from great ingredients found in Kochi prefecture.